Regular price
$299.00 SGD
Regular price
$633.60 SGD
Sale price
$299.00 SGD
Unit price
per
Sale
Sold out
Our TailorMade Pro Double Breast Pump has different phases and suctions, which is a real lifesaver when you have flat, inverted or even injured nipples. The TailorMade Pro, coupled with some nifty advice from our advisors, can also be set up to help mums with underperforming milk supply.
Size Chart
T-Joints Type
View full details
LoveAmme FlexSkin™ T-Joint Types
LoveAmme Wide-Neck
FlexSkin™ T-Joints

Wide-neck Philips Avent Classic and Natural, Spectra,
Snapkis, Hegen (when used with Hegen's wide-neck
connector) and most wide-neck bottles.

LoveAmme MAM / Pigeon
FlexSkin™ T-Joints

All MAM wide-neck milk bottles
All Pigeon wide-neck milk bottles

LoveAmme Tommee Tippee
Flex-Skin™ T-Joints

All Tommee Tippee milk bottles
What's Inside
LoveAmme Breastpump

LoveAmme FlexSkin™ Breast Shields

LoveAmme FlexSkin™ T-Joints

Bottle Stand

Breast Pads

Breast Milk Bag (5pcs)

Lovesaver
Product Features
Targeted Pumping Solution

The pump is customisable for all your pumping needs, including regular pumping, increasing milk supply, unblocking ducts, easing mastitis and engorgement etc.
Unrivalled Pumping Comfort

When used with our FlexSkin Breast Shields, we offer a gentle pumping experienced - even while you enjoy the most optimised pumping experience, ever. Custom-fit FlexSkin Breast Shield options are available separately for all breast shapes and sizes, even for mums with flat or inverted nipples.
Single or Double Pump

Double pumping halves your pumping time! Single pump to empty stubborn reserves and to help prevent blocked ducts.
Built-in Rechargeable Battery

Our pumps are made for pumping on-the-go with an in-built rechargeable battery. It can be easily recharged using any USB power options, including powerbanks.
Pump in Semi-Lying Position

All tired out? Rest and recuperate while pumping!

LoveAmme's FlexSkin Breast Shields conforms to your breast contours for seamless, spill-free sessions, giving you all the security you need even while you pump in a semi-lying position.
3-Phase Expression Technology for High Milk Yield
Stimulation Phase

For additional stimulation to achieve letdown if you have difficulty doing so with Expression Phase. Many breast pumps over-stimulate the nipple during Stimulation Phase, resulting in reduced yield over time. Wide range of 6 levels to choose from.

Expression Phase

Suitable for stimulation through to expression. Our 8+8 levels in this Phase are researched for extraction efficiency – with streamlined combination of suction rhythm, length and strength. Empty your breasts in a shorter time.

Deep Expression Phase

A specially designed phase for deep and more complete extraction of hind milk, which feels just like breast compression during pumping. This mode also helps mothers with inverted nipples with stubborn milk reservoirs. Comes with 8 Standard Levels + 8 Turbo Levels to choose from.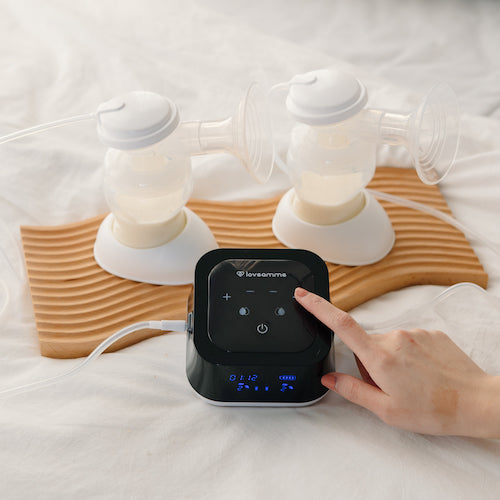 Customised Sessions, Every Single Time
TailorMade Pro brings you unprecedented flexibility. There are 378 possible combinations with TailorMade Pro. Customise your pumping for each individual breast with our Individualised Breast Customised Programme so you can now express milk faster, more completely, and in greater comfort.

The Individualised Breast settings will save you time if your breasts are at different level of fullness, but we really love it for the times when one breast is facing an issue, such as having a cracked nipple (ouchie!). This feature gives our breasts the tender-loving care that it really needs to continue feeding our babies!

If you don't have a need for individual breast settings, simply use one of the pre-set modes using our Synchronised Breast Programme – where the same settings will be applied to both breasts. LoveAmme is pumping customisation made possible.